Spreading The Love This Valentines Day!
12 February 2021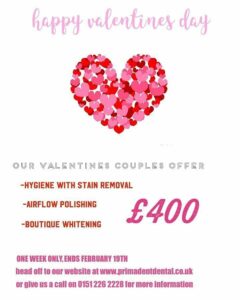 At Primadent, we thought we would share the love with our patients and followers this Valentines Day!
For one week only, you and a loved one (or friend or family member!) can take advantage of our couples whitening offer, with huge savings to be had! Our exclusive package provides you with everything to make your smile sparkle, including a luxury airflow polish and our premium whitening system, complete with bespoke trays!
Be quick! Spaces are limited and this offer ends next Friday, 19th February. To book in, please call our dedicated reception team on 0151 228 2226 or email us at primadent.limited@nhs.net
Please note that treatment will only be carried out on suitable patients, following a clinical examination (included)!
With Love This Valentines Day,
The Primadent Team x
Back to blogs