Primadent is proud to offer services that aim to meet our patient's needs and expectations.
We are proud to introduce you to our team of Treatment Co-Ordinators, who provide an extra service to make your experience here, tailored to you.
Here at Primadent, we use Treatment Coordinators as part of our service to discuss private treatment options. This is useful for people who would like to improve the appearance of their smile or discuss treatments in further detail. Reasons for wishing to improve the appearance of teeth, that we see on a regular basis include:
Wishing teeth to be whiter
Improving the appearance of crooked teeth
Discussing options to close spaces that have been created by missing teeth
Wishing to achieve a different tooth shape
Undergoing treatment can have a direct impact on a person's quality of life, improving their confidence as well as making it easier to eat and maintain good oral hygiene.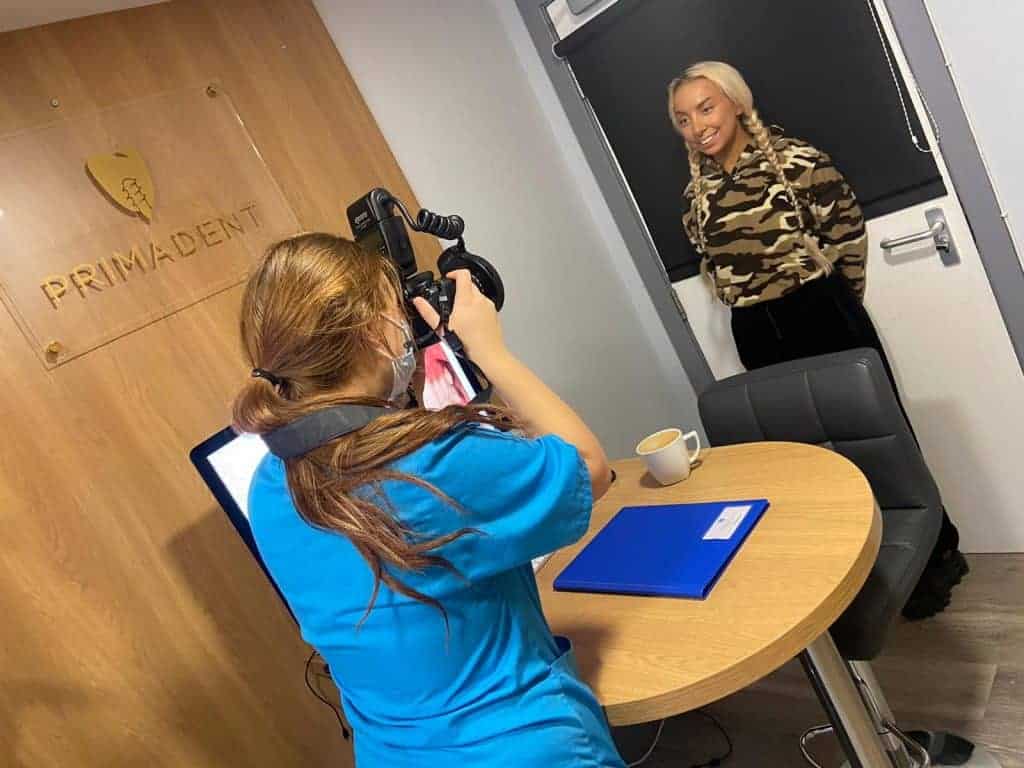 Your Initial Consultation
Our treatment coordinator service offers patients a free consultation appointment to discuss treatment options. At Primadent, we don't charge for this initial appointment, as it is a meet and greet to discuss options and gather the information required to make an informed decision about treatment.
We offer a dedicated, non-clinical space within the Practice, to offer a relaxed and informal environment to discuss your chief concerns and options available.
Our team are trained and experienced in communicating with patients and finding the best way to work with you specifically for your needs and expectations.
You will get the chance to discuss the different services available, while also having the chance to hear about the pros and cons of any treatments on offer, as well as any current promotions and finance options available. You will be able to discuss your options and feel relaxed to put forward any questions you may have. This could be wondering how long the treatment may take, if you are concerned about pain or anything else that you would like clarification on.
We are also able to give an explanation of the treatment processes involved, estimation of potential costs and timescales.
What Are The Main Roles As A Treatment Coordinator?
Your Treatment Coordinator will always be your first point of contact at the clinic. It is designed to be a simple, informal and stress-free experience.
Your Treatment Coordinator can manage your treatment every step of the way. This may include scheduling appointments, discussing and applying for finance with you and will remain with you throughout your treatment journey, in case you have any questions or issues.
We appreciate that the thought of dental treatment can be daunting for many people, so having a Treatment Coordinator can create a more relaxed environment and experience.
Communication
We find that patients do not always feel that they can discuss everything they would like to with their dentist. This could be for a number of reasons; perhaps the dentist is short on time, or the patient is worried that the dentist will feel their question is silly, or the patient feels uncomfortable discussing costs and affordability. With a Treatment Coordinator, you won't have to worry about asking questions and everything will be clear about your treatment. One of the most beneficial elements of having a Treatment Coordinator is that it is away from the clinical environment. You can feel relaxed discussing your options in an informal room, with friendly and trained professionals. This also gives you the chance to meet the staff within the dental practice, as well as getting to know the environment before your treatment begins.
Within your consultation, you will find it a lot easier to discuss options and costs compared to with your dentist. Your Treatment Coordinator is only a phone call or email away and can be contacted whenever you like during our opening times.
Communication can be difficult if the first time you speak to your dentist is in the dental chair! It can feel much more laid back and relaxed if you are in a lounge discussing your options first.
Your Treatment Coordinator is there to listen to you. We want you to be comfortable and feel free to speak about your issues, concerns and expectations for treatment. You will share a great relationship – they are there to offer a helping hand and guide you through the process, while also being trained in answering any of your questions.
Exceptional Service & Quality Of Care
We want you to feel like you are receiving exceptional service from the Primadent team. Whether you are an existing patient or new to the Practice, it is a service everyone can benefit from.
We hope this additional service will make you more confident in your treatment and attending for your future appointments. You will be guided through your treatment, with the opportunity to speak out about anything that is concerning you.
Should you wish to book a complimentary, no obligation consultation to discuss the private treatment options we currently have on offer, please ask at reception or:
Email: primadent.limited@nhs.net
Call: 0151 228 2226